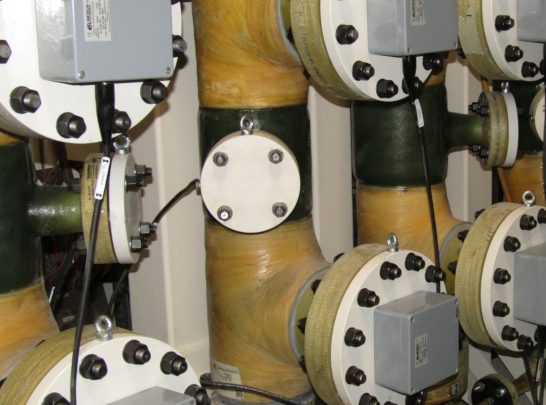 Where multiple pumps with differing duty cycles need to be protected, the Cuprion® deck-mounted system is the perfect choice. Situated on the platform deck, this system generates biocides in-situ, which are then distributed through the platform process pipework and injected into the pump intake. This system can deliver protection to multiple pumps from one location and can vary its output automatically, to provide the required level of protection whatever the duty cycle of the pumps.
Deck mounted systems consist of one or more biocide generating cells and the pipework and valving necessary to connect them into the distribution pipework. Normally fabricated out of GRE, we can also offer systems in other materials to suit any requirements or operator standards.
Deck mounted systems require less maintenance than a pump mounted system. The anodes can be removed and replaced in a matter of hours rather than requiring the removal and re-insertion of a pump from its caisson.
Deck mounted systems are typically fed with a lower flow rate than that of the pump(s), as a result of this the output levels of the biocide are higher than the levels required at the pump intake. This requires infrastructure downstream of the package to direct the dosed water to the required pump where the biocide levels are diluted to the required level by the full pump flow rate. CPC can assist with the design and implementation of this distribution infrastructure if necessary.
Cathodic Protection Co. Ltd.
Venture Way, Grantham, Lincolnshire, NG31 7XS, UK
Tel:

+44 (0)1476 590666
Email:

cpc@cathodic.co.uk
See our recent work
Projects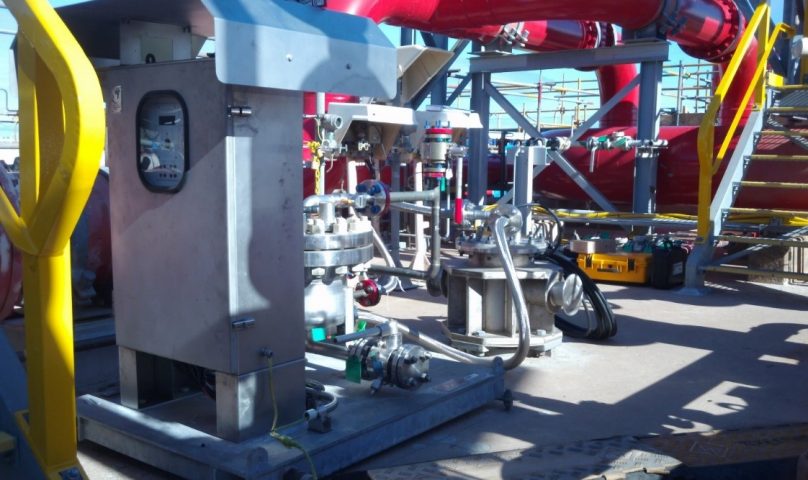 About Us
Meet the team
At Cathodic Protection Co Ltd our team are here to help you. From enquiry through to handover, we work with you every step of the way.
Explore our team members in our Deck Mounted Anti-Fouling team and find out why their experience in the industry can help you with your project needs.
Phil Taylor BEng (Hons) Microelectronics
Project Manager
Phil has a BEng (Hons) in Microelectronics and is responsible for the management of our large-scale Anti-Fouling projects. Previously having worked in the IT industry, Phil has brought his experience to CPC to ensure that clients' needs, and specifications are met and works with internal colleagues to deliver technical documentation, project management and design services. He is also responsible for managing communication with customers and suppliers to make sure that projects are delivered on time and to specification.
Matthew Lamb BEng (Hons) Manufacturing Engineering
Anti-Fouling Product Manager
Matthew has a BEng (Hons) in Manufacturing Engineering and previously worked within the pump industry. With over 15 years' experience in the design and manufacture of marine anti-fouling systems, he ensures that all our anti-fouling systems are designed, engineered, and manufactured according to client specifications. Matthew has worked on projects for major oil & gas companies around the world, including; Saudi Arabia, UAE, Turkey, Egypt, Australia, USA and Indonesia and has also completed the OPITO approved BOSIET and MIST training for offshore working.