Test Bay Nearing Completion
We often hear the phrase that nobody grows up wanting to be a CP technician, but here at CPCL we are trying to change that perception.
In 2019, CPCL began recruiting Cathodic Protection Apprentices. The primary objective was to introduce new / young people into the industry and offer them an opportunity to develop their skills and experience.
Competency of people is a critical element in CP field-related work, and CPCL have almost completed installation of a new test facility at our Grantham Head Office to provide a representative, self-contained area to help train and teach our new and existing staff.
Within this area a wide range of testing can be conducted; from measurements of a variety of CP equipment such as anodes, coupons & reference electrodes all the way through to structure and electrolyte potentials. Basic maintenance work can also be completed, alongside routine inspections of TRs.
The test bay was designed and installed in-house and our ISO 15257 level 3 engineer Jon is pictured finishing this off today.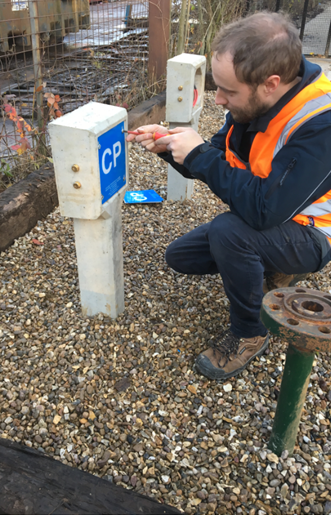 Operations Director Chris Martin said:
'Completing the test bay is a hugely positive step for CPCL staff, not only will it enhance the levels of competence within the CP team, it will also act as a tool for others to use within the business'. Around 30% of our staff are based out in the field so we feel exposing staff to a wider variety of scenarios in a controlled manner can only be a big benefit to our team and our customers'.