First Edition of Smart Grid Days in the UK- A great success!
If you haven't already seen on our social media channels, at the end of April (26th-28th) we hosted the first edition of the Smart Grid Days (SGD) UK event! An event previously hosted 8 times in Italy, by our partners Automa. The purpose of SGD is to gather cathodic protection industry professionals, to discuss the latest developments in its remote monitoring and control.
The event was held at Drayton Manor hotel and conferences in Birmingham, with over 40 delegates from across the UK and Europe in attendance.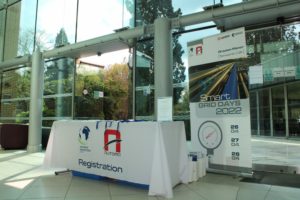 Technical Presentations: Monitoring and tele control of cathodic protection
Cathodic Protection Co. Ltd (CPCL) Managing Director, Chris Martin and Automa's Commercial Director, Stefano Menghini, welcomed everyone and introduced the day of technical presentations. Starting off the presentations was Marco Cattalini of Core Consultancy, with his paper on evaluating the CP system efficiency, in light of EN ISO 15589-1 requirements and available technologies.
Second up, was our very own Sales Manager, Ed Sparks. His presentation addressed the challenges faced in the CP industry during the Corona virus pandemic. Referring to a specific project which involved installing 144 TRUs and 580 Monitors across 3 countries-  Lithuania, Italy and the UK. Ed explained that the issues faced involved temperature, language barriers, difference in CP philosophy, specification, and Covid 19 restrictions.
The itinerary for the rest of the day included-
Robbie Cake (Scotia Gas Networks) : Hazards associated with gas pipelines routed under high voltage cables.
Ivano Magnifico (AUTOMA) : Use of coupons in evaluating the effectiveness of cathodic protection
Ricardo Gutierrez (Exolum) : Evaluation of the insulation between a metal casing and a pipeline by remote control and coupon
Marcus Hardy (CPCL) : Hazardous area design and engineering for corrosion engineers
Krešimir Kekez (Pa-El) : Cathodic protection of pile caps on Pelješac Bridge- Preliminary results
Stuart Martin (CPCL) : Assessment of Odorant and Benzene Levels in the gas pipeline network
To conclude the day, Stefano Menghini gave his paper on the GIANT Project,  created by Automa with the aim of developing an efficient, totally smart and automated network through intelligent remote monitoring.
Introducing Next World VR- The future of Workplace Learning
To break up the day filled with CP industry presentations, Katy Nevitt, Business Development Manager of Next World stepped in. Next World is a virtual reality company, helping induct and train employees safely and effectively through visually immersive realities. The Next World health and safety learning experiences are CPD accredited and include- Manual Handling, Confined space entry, Working at heights, Forklift hazards, and the recently released Lock out, Tag out. In the break, the delegates had a demo of these experiences, with positive feedback all round! We are proud to be a partner of such an innovative way of thinking.
Ask the Expert Training Morning
The final day of the event was dedicated to training with Automa Product Manager, Ivano Magnifico.  Ivano gave a presentation alongside a demonstration on Automa's WebProCat software, showcasing the new updates of 2022. The software is a way of monitoring the cathodic protection field technology remotely. In addition to this, the floor was opened to any technical questions that the attendees had prepared.
Save the Date
So that concludes the first UK edition of Smart Grid Days, we would like to thank all organizers of the event, alongside Drayton Manor  for accommodating us well. It was great to see partners and valued clients in attendance!
Keep an eye out for announcements on the next Smart Grid Days, hosted by Automa from the 21st- 22nd September.
Hope to see you then!